Golf holiday transfers in Mallorca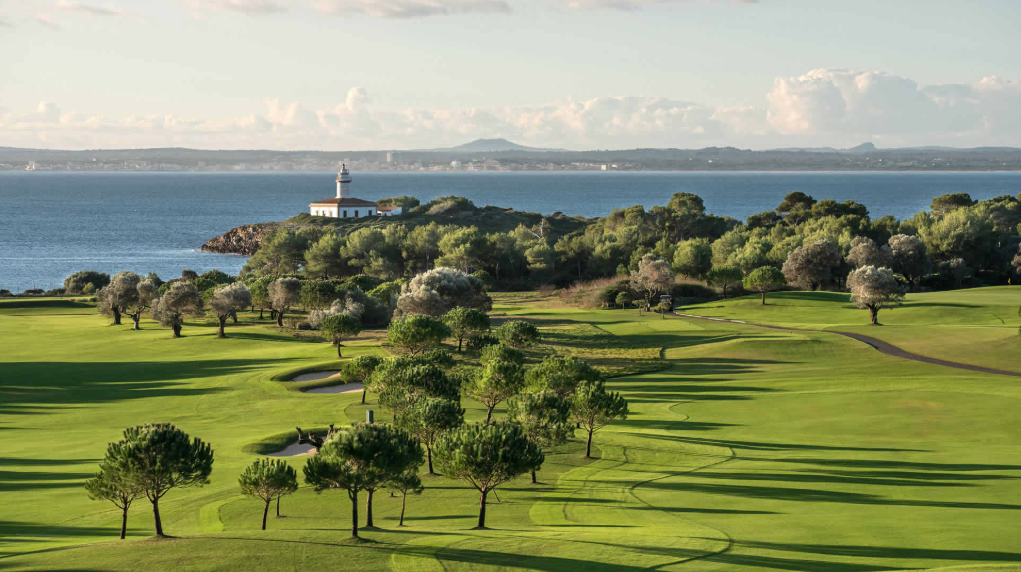 YOUR GOLF HOLIDAYS IN MALLORCA
Golf holidays in Mallorca are growing in popularity as the golfing world slowly realises that this island has it all, and flying 6 hours long haul for sunshine and greens is plain silly when you can pop across the Mediterranean and get all that and more. As such Mallorca has become an undisputed, high-end golfing destination.
There are 23 golf clubs in Mallorca, 20 open to visitors, 14 in the south, four in the northeast and 2 in the north, all under the auspices of the amateur golfing authority of the Balearic islands: La Federación Balear de Golf. Several of the largest greens are located within luxury golf resorts, allowing for a fully inclusive, no driving, golfing experience. These include hotels Son Quint, Son Vida and Son Muntaner near Palma, Son Antem near Llucmayor and Pula in Son Servera in the east of the island. There are two however, which are consistently voted the best golf courses in Mallorca; Alcanada Golf in Alcudia and Son Gual on the Palma to Manacor road.
Mallorca Golf Season
Though you can play golf at practically any time of year on the island, the best seasons are Spring and Autumn. Summer may be too hot and Winter, though mild, is changeable. It is worth noting too that in Autumn the grass can seem a bit dry, and this is the main challenge, as the Summers on the island are tremendously hot, the greens are hard to keep green.
MALLORCA GOLF CLUBS

Alcanada Golf Course – Club de Golf Alcanada
Spectacular design by Robert Trent Jones Snr. & Jnr. and breathtaking location on the Llevant hills with pine, olive and oak trees overlooking the small island and lighthouse on the Bay of Alcudia. A 12 hole course with 12 minute tee intervals, beautifully kept and maintained and with the most friendly and helpful staff. Located 65.5 km from Palma de Mallorca airport.

Son Gual Golf Course – Golf Son Gual
German owned and designed (by Thomas Himmel), Son Gual is considered, along with Alcanada Golf, of the very best the island can offer. As satisfying as it is challenging, the greens are in impecable condition, angled cleverly to allow for the best play, and with 15-minute starting intervals set to insure there's no waiting around. Located 14,4 km from Palma de Mallorca airport.

Son Vida Golf Course – Arabella Golf Son Vida
Located within the prestigious Son Vida estate, Arabella Golf Son Vida is the oldest golf course in Mallorca, built in 1964. In 2001 the course was redesigned by German architect Kurt Rossknecht increasing its difficulty. The undulating fairways, and large, well designed contoured greens, offer numerous challenging pin positions, and are a good test for golfers of all standards. 17 km from Palma de Mallorca airport.

Son Muntaner Golf Course – Arabella Golf Son Muntaner
A part of the Arabella Golf trio (Son Vida, Son Quint and Son Muntaner), Son Muntaner was built in 2000, designed by Kurt Rossknecht as a tougher and longer version of the others. The greens have been re-seeded with Bermuda Celebration grass, which withstands the hot Summer temperatures well and allows for year-round playing. Son Muntaner is also home to Mallorca's oldest olive tree – "Sa Capitana". 17 km from Palma de Mallorca airport.

Son Quint Golf Course – Arabella Golf Son Quint
Innaugurated in 2007, this is the youngest golf course on the island and the latest addition to the Arabella Golf Resort, aslo designed by Kurt Rossknecht, and Ramón Espinosa. The setting is wonderful, with elevated views over the city, located 17 km from Palma de Mallorca airport.

Golf Park Mallorca – Golf Park Mallorca Puntiró
Golf Park Mallorca opened in 2006, a gently undulating course, easy to walk and crafted by architects from Nicklaus Design. There are buggy paths, although buggies can be taken onto the fairways, weather permitting. The course is located 10km from Palma city and 14 km from the Palma de Mallorca airport.

Pula Golf – Pula Golf Resort
Pula Golf was founded in1995 and redesigned in 2004-2006 by José María Olazábal to satisfy the demands of international and professional golf; par 72 of 6.246m where 14 of the 18 holes have views to the green from the tee and the remaining 4, from the 2nd stroke. Par 70 for professionals. Located near Son Servera on the east coast of Mallorca. 70 km from Palma de Mallorca airport.
AUTOCARES DEVESA SL.
C/FUSTER 36 A
07460 POLLENÇA