Mallorca airport transfers to Pollensa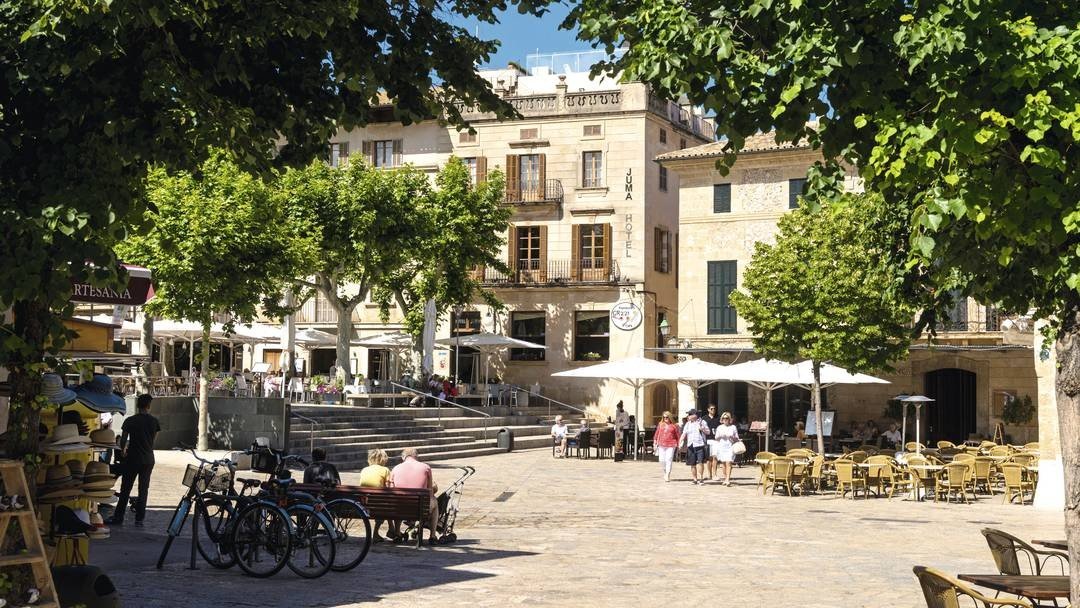 VISIT POLLENSA
For pure Mediterranean charm
Book your Mallorca Holiday Transfers airport transfers to Pollensa to walk its medieval streets, climb to the hilltop monastery and enjoy the vibrant plaza.
Mallorca airport transfers to Pollensa
For a taste of true Mediterranean charm, today we will take you to POLLENSA, in the north of Mallorca, 60,8 km from Palma de Mallorca airport and 6 km from the beach.
ABOUT POLLENSA
A unique spot for walking, sightseeing, beaches and fine dining on the stunning north coast of Mallorca Island.
Pollensa is one of those unusual places that catch you unaware, one day you are nonchalantly sipping coffee in the Plaza Mayor and the next you want to stay forever.
Perfectly located, in a dip in the valley, between the Serra de Tramuntana Mountains and the vast and serene Bay of Pollensa, the old town of Pollensa is a beautifully preserved, Mediterranean village, home to an eclectic mix of locals and foreign residents, remote enough to feel exclusive and accessible enough to visit on a day out.
It is essentially a large village which has retained its old world charm somehow albeit huge popularity with second residents and holiday makers. On Sunday mornings Pollensa's main square hosts the weekly market with stalls of fresh produce and local delicacies, bread and flowers, while the adjoining streets are filled with jewellery, crafts, leather and olive wood goods, and the cafes are teeming with life.
The Palma to Alcudia road takes you to Pollensa in 45 minutes from Palma airport and the capital city, and in 10 minutes from Pollensa you are on the coast.
ABOUT Mallorca Holiday Transfers
Taxis Mallorca Holiday Airport Transfers make getting around the island just that little bit easier!
We can pick you up at Palma de Mallorca airport and take you to your hotel, villa or private home on the island and then deliver you back to the airport on time for your return flight.
Mallorca Holiday Transfers cater to everyone, no matter the size of your party and provide child seats for families with young kids, extra baggage room when necessary, bike transport for cycling teams and special assistance for people in wheelchairs or with mobility difficulties.
We are also available for day trips and excursions around the island during your stay and can provide transport by taxi, minibus or coach for any number of people, making it that much easier to visit Mallorca, check out remote beaches and dine out late in the best restaurants without the worry and hassle of having to find places and drive yourself home at the end of the day.
Mallorca airport transfers to Pollensa will take approximately 45 minutes.
Come to Pollensa for family holidays, cycling tours, romantic escapes and food and wine. Oh, and beautiful beaches!
Pollensa's BEACHES
Puerto Pollensa
The Bay of Pollensa is a serene, natural horseshoe bay with a lighthouse on one end, pine shaded walkway along the coast, yacht club and marina, safe, shallow beaches and a Nature Reserve and Bird Sanctuary in the marsh area just outside town. It is a popular holiday resort known variously as Port de Pollença, Puerto Pollensa and Pollensa Port.
The beaches are well cared for and equipped with sun loungers, parasols, lifeguards, showers and wooden walkways down to the water. Recent attempts to pedestrianise the coastal road have not come through entirely, but one-way traffic and a wide beachside boulevard has made the Llenaire beach more private. Cafes and restaurants as well as shops and supermarkets provide everything you could want on a day out on the beach and the beach cafes on the sand are great for shade, chilled drinks and snacks. Some serve cocktails and have live music playing until late.
Cala Sant Vicenç
On the craggy northern side of the Formentor peninsula there are few beaches and what little there is, is hard to reach. This is what makes the fishing village, and now holiday resort of Cala San Vicente so special. It is an area of exquisite natural beauty, made up of 4 small coves; Cala Barques, Cala Clara, Cala Molins and Cala Carbó, beaches of sand and pebbles of varying sizes with the most transparent turquoise waters. But the village has a couple of shops, a surf and scuba hire shop, a kayak rental outfit, a tiny supermarket and a few cafes and restaurants.
Formentor beach
The Formentor peninsula is the stretch of land you see on the very top of the island, reaching out towards the island of Menorca, crowned at its northernmost point with the lighthouse of Formentor.
The road from Puerto Pollensa winds over the mountains to the fabulous mile long sandy beach of Playa de Formentor. Sun loungers and parasols are pricey and there is only one shop and one café, both of which are hugely overpriced. Parking is also charged now and off road parking no longer possible, but the setting feels like paradise and is worth the expense.
On the Formentor península there are also two magnificent beaches, small, sandy in parts and a small hike from the road, but if you are looking for clear sea and fairly empty beaches with no facilities, then check out Cala Figuera and Cala Murta.
OTHER BEACHES near Pollensa
Other beaches near Pollensa are the ones found in the area of Mal Pas, on the southern side of the Bay of Pollensa, which are particularly child friendly and provided by a small beach cafe, and the pebbled beach of S'illot a little further on toward the cape Cap de Pinar.
Alcudia's wonderful stretch of golden sand, which begins at the port and marina of Alcudia, busy and vibrant and full of attractions, and carries on south past the virgin landscape of the Albufera Nature Reserve onto the pristine sandy swathes of Playa de Muro and on to Can Picafort.
WINE TASTING in Pollensa
There are 2 main wine regions on the island; Pla i Llevant and Binissalem, both with D.O. denominations and located in the fertile foothills of the two island mountain ranges, the Serra de Llevant and the Serra de Tramuntana. Pollensa old town is at the edge of the Tramuntana but further north and had two small and highly regarded wineries operating in the area.
Vinyes Mortitx is locally run and situated on the road from Pollensa to the Lluc Monastery in a stunning spot overlooking high peaks, 390 metres above sea level in the municipality of Escorca. The vineyards produce 100,000 bottles of white, rosé, red and also sweet wine per year on 16 hectares of land.
C'an Vidalet is a popular local winery started by a German entrepreneur nestled into the hillside off the old Pollensa to Alcudia road. They produce a fine selection of wines, with one overwhelming star; the Blanc de Negre, a white wine produced from red grapes. The winery's total production of around 45,000 bottles is over half Blanc de Negre. Wine tours and tasting are offered on the premises accompanied by bread and wine.
EATING OUT in Pollensa
Pollensa plaza mayor, the main square, is undoubtedly the most popular place to eat out and where most of the cafes and restaurants are concentrated. The choice is fairly varied though mostly international cuisine. Tapas and traditional Mallorcan food is harder to find. Restaurant Q11 right opposite the main church is a new addition showing promise. They serve dishes which range from Italian to Asian, with a good selection of wines sold at the adjoining wine shop.
There are also a couple of great restaurants in the side roads leading off from the square. For subdued elegance and wonderful fish and seafood dishes try Clivia, and for pizzas straight from the oven and great Italian pasta check out the delightful Trencadora.
PARKING in Pollensa
Parking anywhere in Mallorca in July and August can be time consuming and frustrating, and in this respect Pollensa is no different.
The town's streets are narrow and the centre is pedestrianized while surrounding roads are all one-way traffic, forcing you into tighter and tighter alleyways, which can be stressful in the heat.
There are a couple of large parking lots on the outskirts of town, but they get filled up quickly, and on Sunday market or at dinner time is often impossible to park anywhere.
Mallorca airport transfers to Pollensa will resolve this problem easily, collecting you at the airport, driving you to your hotel or villa, returning to collect you at the end of your holidays, and providing day tours and excursions around the island.
AUTOCARES DEVESA SL.
C/FUSTER 36 A
07460 POLLENÇA