Mallorca airport transfers to Port de Soller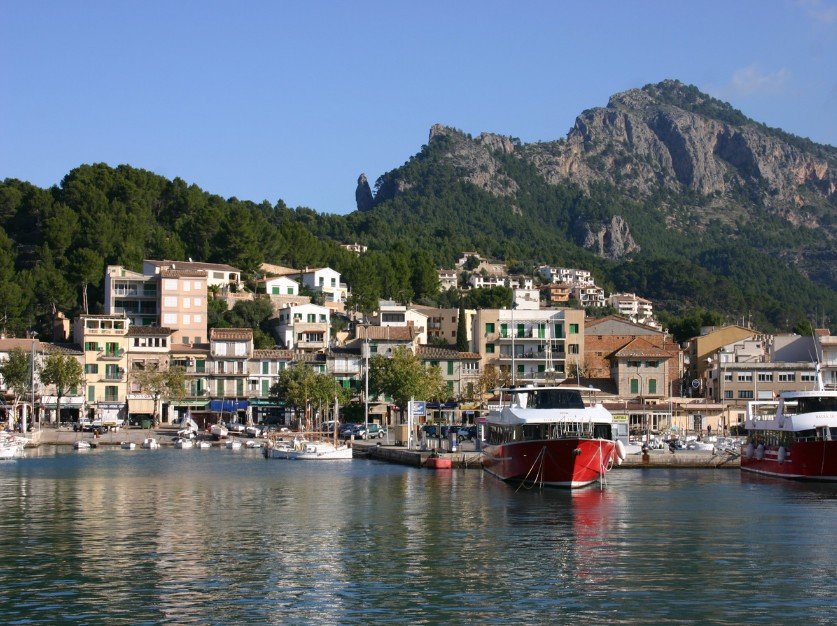 How to get to Port de Soller
Mallorca airport transfers to Soller and Port de Soller
Beaches, attractions and excursions in the area
Sun villas and townhouses to let in Mallorca
At Mallorca airport transfers we want your holidays to get off to a good start, and with Mallorca Holiday Transfers they will! Our professional drivers will take you directly from Palma de Mallorca airport to your hotel or villa, and to all the best beaches on the island, and save you time, money and the hassle or trying to get there on your own.
ABOUT Mallorca Holiday Transfers to Port de Soller
Mallorca Holiday Mallorca airport transfers provide transportation for individual travellers and groups of all sizes, family transfers, cycling transfers and disability transfers directly from Palma de Mallorca airport or from your hotel or villa in Mallorca to anywhere on the island.
Today we are going to look at Soller and Port de Soller, 35,1 km from Palma de Mallorca airport on the west coast of the island. Mallorca airport transfers to Port de Soller will take approximately 36 minutes.
ABOUT Port de Soller
Port de Soller is situated on a beautiful horseshoe harbour on Mallorca's wild and mountainous west coast. A small and relatively underdeveloped village set against the majestic Serra de Tramuntana, Port de Soller enjoys scenic views of the sea and mountains, a long golden beach and a pedestrianised promenade lined with cafes and restaurants.
The nearest town to Port de Soller is Soller old town, 5 km inland, and can be reached by old vintage train. It is worth visiting on Saturday mornings for the weekly market. Considered one of the best on the island.
Alternatively, book our highly accomplished transfer drivers to take you directly to Port de Soller by direct airport transfer service from your hotel or villa and make this a real day out on Port de Soller beach in Mallorca.
AVOID PARKING in Port de Soller
Port de Soller is the most popular holiday resort on the west coast of the island, in fact it is the only one! And the peak season sees numbers in the area skyrocketing. Luckily the beach is long and the town and port easily accommodate the numbers.
However parking can be difficult. There is one largish parking area in Port de Soller and frankly there is never any space. You tend to have to drive round and round in circles wasting valuable holiday beach time until you get lucky and find a rare parking spot, often miles away from where you really want to be.
Mallorca airport transfers to Port de Soller resolve this problem easily, by driving you to your hotel or villa and then only returning to collect you should you want to visit another town or when you are due back at the airport at the end of your holidays.
EATING OUT in Port de Soller
Eating out in Port de Soller is easy; there are so many places to choose from, there is an entire range of cafes and restaurants, from snacks and tapas to high end international cuisine. Soller old town is filled with pavement cafes and small charming places to eat , while Port de Soller has beachside cafes and family restaurants looking out to sea.
Mallorca airport transfers will provide you with reliable and safe transportation to your restaurant of choice and take you home safely at the end of the evening. Allow yourself to enjoy an after dinner cocktail on the beach and make sure no one has to drive on unknown roads.
SAILING in Port de Soller
Sailing along the west coast of Mallorca is highly recommended. The ragged coastline of the Serra de Tramuntana affords stunning views and the hidden coves are great for snorkelling and diving.
You can charter a boat for the day to explore the coast, see the stunning Sa Calobra and enjoy the experience fully.
WALKING AND HIKING in Port de Soller
Perfectly situated for walking tours, Port de Soller is in the very heart of the mountain range that crosses the western coast of Mallorca: The Serra de Tramuntana.
A short and relatively easy one hour hike will take you to the lighthouse; Cap Gros, great for panoramic sea views. A slightly longer walk along the old mule tracks will take you to Deià and on to Valldemossa, or to Gorg Blau to the north.
LIFEGUARDS in Port de Soller
A life guard services provides protection and support along Port de Soller beach throughout the day. This is not to say you can abandon the kids to play unguarded, there are too many people to leave that to the lifeguards. However, they do provide an extra pair of eyes and are on hand to help with stings, sunburn etc.
DISABILITY ACCESS in Port de Soller
Port de Soller and Soller old town are both reasonably flat so getting around in a wheelchair shouldn't be a problem. The beach has all the amenities you could ask for; disability access, with wooden walkways down to the shoreline and a wheelchair friendly promenade which runs along the beach for the entire length, giving easy access to cafes, hotels, restaurants and the street.
AUTOCARES DEVESA SL.
C/FUSTER 36 A
07460 POLLENÇA