Mallorca Airport Transfers to Portopetro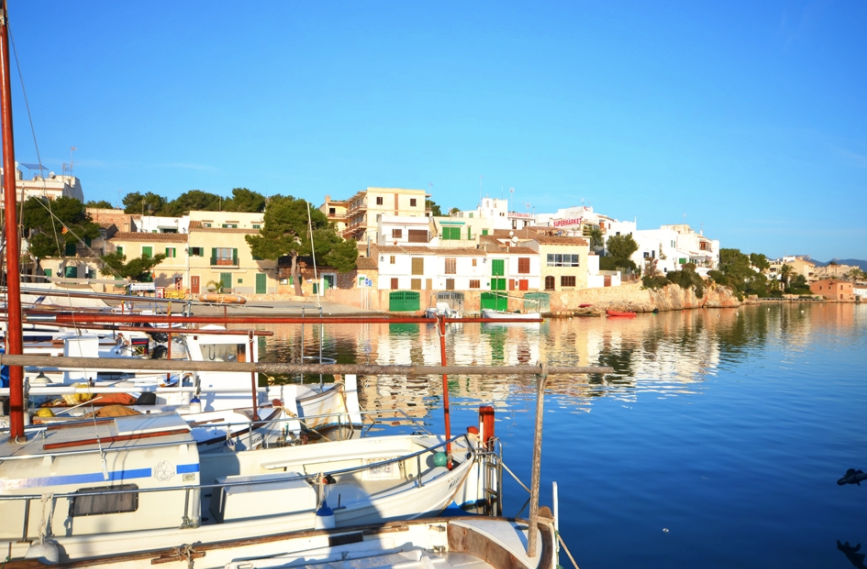 VISIT PORTOPETRO
A coastal fishing village on Mallorca's south east coast
Book your airport transfers to Portopetro : for a traditional Mallorcan village, virgin coves and fabulous cycling routes
Mallorca airport transfers to Portopetro
To EXPERIENCE a real Mediterranean village, visit PORTOPETRO, in the SOUTHEAST of Mallorca, some 63 km (or just under 40 miles) from Palma city and Palma de Mallorca Airport, and if you tire of this simple paradise and yearn some nightlife, you can get glitzy and glam in the nearby resort of Cala D'Or.
ABOUT Portopetro
Portopetro is a small and charmingly pretty fishing village, flanked by hills, in the Municipal district of Santanyí, in the very south eastern corner of the island of Mallorca.
A marked lack of sandy beaches has kept mass tourism from the town and ensured Portopetro's distinct and authentic character has been left largely untouched. Its beautiful rocky cove and fishing harbour have remained as they always have been, a working marina bobbing with traditional vessels and a coast lined with white washed villas and a few simple eateries and cafes.
ABOUT Mallorca Holiday Transfers to Portopetro
Mallorca Holiday Transfers offer taxis, minibuses, coaches and specialist transport to Portopetro for people with mobility problems and large groups of cyclists travelling with their bikes. We also provide safe and reliable airport pick ups and delivery to and from your hotel, villa or second home and we do excursions and day trips around the island's most interesting sites and to Mallorca's most gorgeous beaches and resorts.
Taxis Mallorca Holiday Airport Transfers make getting around the island just that little bit easier!
Portopetro ATTRACTIONS
Nearby Markets to Portopetro
Local markets start at dawn and carry on until around 2 pm with colourful displays of fruit and vegetables, cheese, cold meats, freshly baked bread and pastries, olives, oil and wine. You can buy local produce but also artisanal products made in the Portopetro area, like cheese, salt from Es Trenc, and eco wines, as well as island-made basket ware, fabrics, glass and porcelain, jewellery, pearls and leather.
Visiting a market is a great morning out but is best enjoyed early as it can get quite busy, especially at weekends in the peak summer months of July and August.
Nearby Markets to PORTOPETRO:
Santanyí Market – The market takes place every Wednesday and Saturday morning.
Felanitx Market – 10kms from Portopetro, the Felanitx market takes place every Sunday morning.
NATURE RESERVES NEAR PORTOPETRO
Botanicus
A mesmerising display of cacti on the way to Ses Salines.
Mondragó Natural Park
This is the Balearic Island's second-largest protected natural area, with 765 hectares of land and a wealth of autochthonous flora and fauna; martens, genets and hedgehogs as well as a wide variety of bird species and a popular birding spot for migratory birds.
Cap de Ses Salines
The Cape, on the southernmost point of Mallorca, is crowned by charming little lighthouse from where you can see the Island of Cabrera.
GOLF COURSES in Portopetro
There are 3 golf courses in the Portopetro area: Vall D'Or Golf, Rotana Greens and Mallorca Son Antem Golf Resort & Spa.
Vall D'Or Golf is an 18-hole course with driving range and practice area on the Cala D'Or a Porto Colom road.
Rotana Greens is a 9-hole course with a driving range and practice area in Manacor.
Mallorca Son Antem Golf Resort & Spa with two 18-hole courses (east and west) in Llucmayor.
EATING OUT in Portopetro
Like most of the ancient villages in Mallorca, life in Portopetro revolves around the main plaza, where you will find rcafes and restaurants, spilling out onto pavements, serving a selection of typical island snacks, tapas and more elaborate Mediterranean dishes. A few have shaded interior courtyards that are blissful on hot summer days and in the outskirts of town, and in nearby Ses Salines, there are a few more upmarket restaurants.
BEACHES near Portopetro
S'Amarador – Can be reached on foot from Portopetro, by car, on the coastal mini train or by glass bottomed boat.
Cala Mondragó – Located in the Mondragó Natural Reserve, this is a white sandy beach with rocky inlets and turquoise blue sea.
CYCLING in Portopetro
The countryside in the SE is fairly flat with occasional rolling hills. This is the flattest part of the island! So cycling here is perfect for clocking in the miles, training distances and for leisurely cycle rides around the vineyards and saltpans.
PARKING in Portopetro
Like most of Majorca in summer, it is best to avoid driving on the hot busy island roads, not because they are particularly dangerous (they aren't) but because they get crowded and busy.
Booking a taxi or transfer service will allow you to avoid the hellish torment of finding parking space once you reach your destination.
With Mallorca Holiday Transfers we offer an easy and affordable solution: we drive you there and collect you later!
AUTOCARES DEVESA SL.
C/FUSTER 36 A
07460 POLLENÇA