Cycling in Alcudia or Playa de Muro – Bike holidays in the NE of Mallorca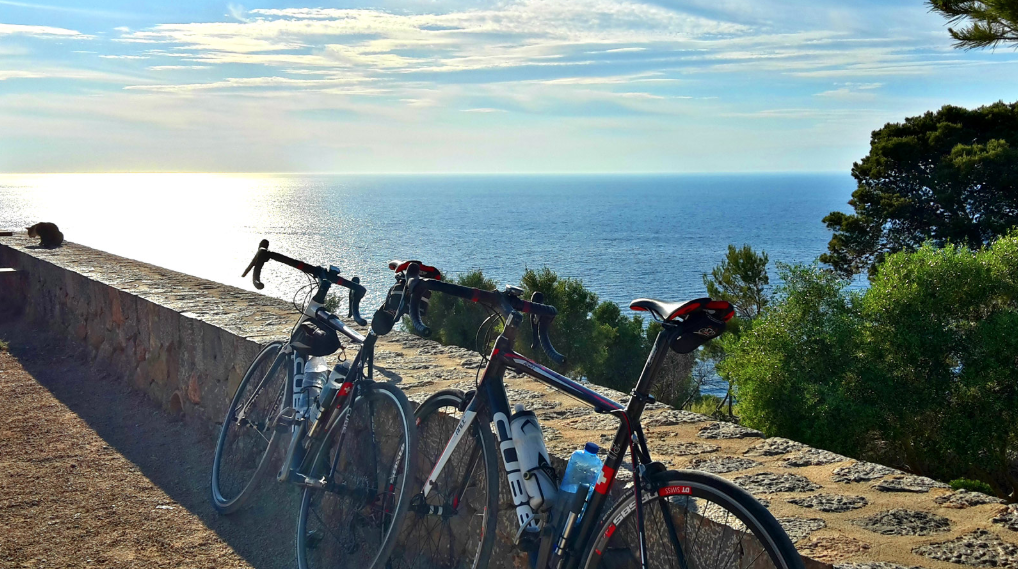 With Mallorca Holiday Transfers your cycling holidays will run smoothly from the start – we will collect you at the airport and take you directly to your hotel or villa and then at the end of your stay we will make sure you get back to the airport on time for your flight home.
Mallorca cycling transfers to Alcudia and Playa de Muro
We can also take you to the start of routes and provide cycling back up all over the island.
Mallorca airport cycling transfers to Alcudia and Playa de Muro
Are you planning a cycling holiday to Mallorca and don't know where to stay or how to organise your trip?
Let us help you make up your mind.
This is one of our favourite beaches and the cycling community's most popular cycle location; ALCUDIA and PLAYA DE MURO, in the north east of Mallorca, 62 km from Palma de Mallorca airport.
Mallorca airport cycling transfers to Playa de Muro take approximately 45 minutes from door to door and provide cycle shuttles, airport runs and support vehicles for any eventuality.
CYCLING in Alcudia and Playa de Muro
The Alcudia and Playa de Muro area in the north east of Mallorca is the premier cycling destination for cyclists staying in the north of the island. Pro teams (Team Sky) and bike clubs from all over the world stay here for late and early season training camps and the half Iron Man Mallorca 70.3 is based on the Bay of Alcudia.
Why is this area so popular with cyclists?
Alcudia and Playa de Muro are well located for Tramuntana routes in the north as well as the central plain and the southern coastal rides down to Cala Ratjada, the Three Monasteries and beyond. In fact, from here you have easy access to the whole island.
PLAYA DE MURO and ALCUDIA BEACH
Alcudia old town is slightly inland from the beaches, a walled medieval town with cobbled streets and a charming old world feel about it, and Alcudia Port, on the coast, is a commercial port, yachting marina and fabulous beach and holiday resort popular with Scandinavians.
Puerto Alcudia (or Port de Alcudia) is a lively and youthful resort with hotels and villa rentals available for every kind of holiday and cafes and restaurants open until late. This is not a party town like the ones you may find in the south of the island, but it does have a cool set of eateries and late night cocktail bars along the seafront.
Playa de Muro is not really a town or a resort at all, but what it does have is a beautiful, long white sand beach on Mallorca's north eastern coast, between Alcudia Port and Can Picafort, on the vast Bay of Alcudia, with the marina on one end and miles of clean golden sand with turquoise blue sea on the southern side, a beach which stretches on indefinitely down the eastern coast of the island, morphing from family beach to party beach to virgin nudist beach to trendy beach cafes and on. It is also partly a natural reserve, called Son Bauló, protected from construction and home to a vast variety of flora and fauna: turtles, red pheasants, hares, rabbits, weasels and Algerian hedgehogs.
Can Picafort is 10 km from Sta. Margalida and 64 km from Palma de Mallorca Airport on the north coast of the island.
Alternatively, book our highly accomplished transfer drivers to take you directly to Playa de Muro by direct airport transfer service from your hotel or villa and make this a real day out on Playa de Muro beach in Mallorca.
AVOID PARKING in Alcudia and Playa de Muro
As one of the most popular holiday resorts in the north of Mallorca, numbers in the area skyrocket in the peak season and parking becomes an issue. Luckily the beach is extremely long and the town and port easily accommodate the numbers. However parking can still be difficult. There is one largish parking area in Playa de Muro and frankly there is never any space. You tend to have to meander round and round until you get lucky and find a rare parking spot, often miles away from where you really want to be.
During the cycling season it's a bit easier to park but you may find that getting around is easier by cycling transfer.
Mallorca cycling transfers drive you to your hotel or villa and then only returning to collect you should you want to visit another town or when you are due back at the airport at the end of your holidays.
RESTAURANTS & CAFES in Alcudia and Playa de Muro
No bike tour is complete without a mid morning coffee and cake stop, a lunch on route and best of all, a beer at the end of the day.
There are a several very trendy beach bars on the Can Picafort side of Playa de Muro and a whole array of eateries on the Alcudia side of the bay to keep you hydrated and fuelled for the following day. Inland, in the old town, which is primarily pedestrianized and as such excellent for cyclists, the plazas and main streets are lined with restaurants and cafes.
If you are too tired and don't want to drive, Mallorca cycling transfers will provide you with reliable and safe transportation to your restaurant of choice and take you home safely at the end of the evening. Allow yourself to enjoy an end of ride drink on the beach and make sure no one has to drive home on unknown roads in the dark.
ARCHEOLOGICAL SITES in Alcudia and Playa de Muro
This is something to do on a rest day in the Alcudia area.
The Playa de Muro has over 150 officially recognized sites, a large part of which date from Pre-Roman times, and along its most virgin stretch of coast, there is an interesting archaeological site: Son Real necropolis or "Cemetery of the Phoenicians" as it is known locally is a prehistoric burial ground, used from the Iron Age until Roman times, with over 100 underground tombs carved into the rock.
Alcudia old town is also worth mentioning here: it is encased inside the old walls of its medieval past and to the side of the town there are the archaeological remains of the Roman city known as Pollentia. Dating from 70 or 80 BC until the 6th Century, these are the most important archaeological remains to be found in Mallorca and excavation works are on-going.
SUN LOUNGERS AND PARASOLS in Alcudia and Playa de Muro
You may be in Mallorca for some serious cycle training and have no time for frivolous sun bathing, but if you can squeeze in a day at the beach, you are in the right place for it. The beaches in north-eastern Mallorca are some of the best the island has to offer.
Playa de Muro beach goes from family holiday heaven on one end, with all the facilities you could dream of; ice cream stands and playgrounds in the sand, to a virgin expanse of beach on the far end, with absolutely nothing; no beach bar, no sun loungers nor parasols, no showers, etc., only golden sand and blue sea.
LIFEGUARDS in Alcudia and Playa de Muro
A lifeguard service provides protection and support along Playa de Muro beach throughout the day. This is not to say you can abandon the kids to play unguarded, there are too many people to leave that to the lifeguards. However, they do provide an extra pair of eyes and are on hand to help with stings, sunburn etc.
DISABILITY ACCESS in Alcudia and Playa de Muro
Playa de Muro beach has wooden walkways down to the shoreline and a wheelchair friendly boardwalk in some stretches of beach, but it isn't fully accessible and wheelchairs will struggle.
OTHER FACILITIES in Alcudia and Playa de Muro
Playa de Muro is a blue flag beach and it shows immediately. The water is crystal clear and the sand is white and it goes on for miles. There aren't any toilets, showers, tourist information and water stations along most of the beach, it is remote and virgin and beautiful but there are some very trendy beach cafes where you can get a drink and meal and sit back and watch the waves.
AUTOCARES DEVESA SL.
C/FUSTER 36 A
07460 POLLENÇA