Mallorca cycling transfers to Sa Calobra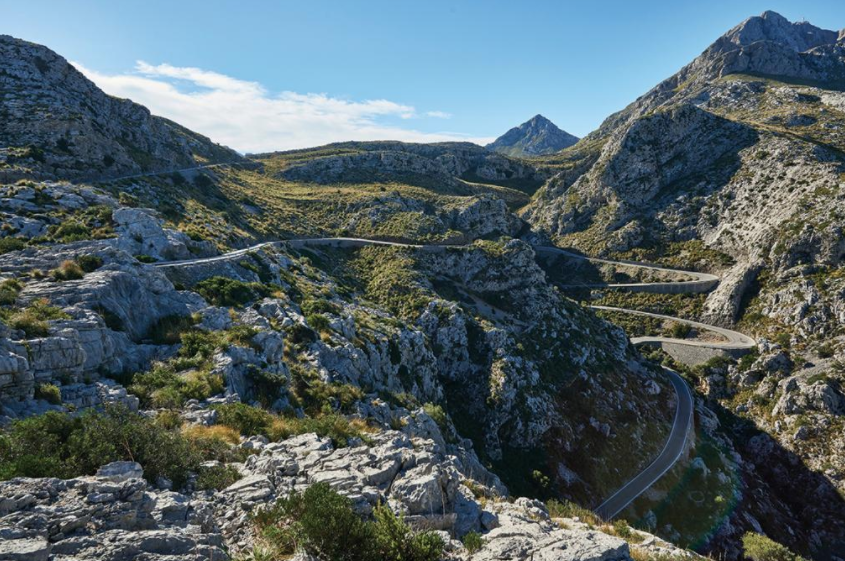 Drive Out & Bike Back from Sa Calobra
Cycling tours in Mallorca and bike transfers to the start or end of the most iconic route on the island
Mallorca cycling transfers to Sa Calobra
Take Mallorca airport and cycling transfers to Sa Calobra, Mallorca's most challenging bike ride
For a real cycling challenge, today we will take you to SA CALOBRA, in the mountanous west of Mallorca's Tramuntana, 75 km from Palma de Mallorca airport. and takes an hour.
ABOUT Mallorca cycling transfers to Sa Calobra
Mallorca Holiday Transfers provide an easy way to get around the island.
We will collect you at Palma de Mallorca airport and drive you to your hotel or villa and then take you back to the airport on time at the end of your holidays.
We also cater to individual travellers and groups of all sizes, providing family transfers, cycling transfers and disability transfers.
ABOUT Sa Calobra
Sa Calobra is a remote and breathtaking location, and the most popular cycling route on the island. It is really no more than a beach and a gorge etched into the otherwise inaccessible Tramuntana ridge along the western coast of Mallorca.
The serpentine road to Sa Calobra is defined as one of the most scenic drives in the world and most dangerous in Spain (13 km) was constructed by the Spanish-Italian engineer Antonio Parietti in 1932, who also designed the road to that other feat of engineering, the road to the light house at Cap de Formentor.
CYCLING TO Sa Calobra​​​​​​​
CAT 1 Climb – 9.4 Kilometres – 7% Gradient – 670m Elevation
This 26 hairpin ascent from Sa Calobra, at sea level, to the top of Coll del Reis at 686m, is Mallorca's most stunning engineering feat and a favourite cycling route. In fact it could be said that it is one of the main reasons cyclists come to the island.
Though you do have to go down first before you come up, if you'd rather try this mighty climb on fresh legs, we can drive you down to the beach, to the start of the route.
Sa Calobra time trial
"What's 10km long, rises 686m from sea level and is probably the hardest 30-50 minutes of your life? "
The current record for the official climb is held by Team Sky's David Lopez, at 24m59s, averaging 22.7kmh.
THE BEACHES of Sa Calobra​​​​​​​
There are two:
Cala Sa Calobra is a tiny 30m beach, part pebbles and part sand, with a few cafes serving simple dishes and near a parking space. Though do be warned, finding a free space in the season is needle in the haystack stuff.
Torrent de Pareis is the second larger beach, the one you will see in photos if you are looking up Sa Calobra. It is about 100 metres long and to reach it you will have to walk the 1 km path that runs through the middle of the mountain in a narrow tunnel.
EATING OUT in Sa Calobra​​​​​​​
Certainly one of the most unusual beauty spots on the island, Sa Calobra is very popular in the summer and rammed at lunchtime in peak season. Hence food quality tends to drop even in the most exquisite restaurants.
There are lots of places to choose from however, and if a picnic on the rocks isn't what you have in mind for lunch, then have a look at these restaurants and cafes.
The views and weather will be wonderful, and if the company is too, enjoy a simple snack and a chilled drink to get you fuelled for the climb ahead.
As a cyclist you are more likely, and wiser, to choose the cooler, emptier off peak months, when the sun isn't beating down on the back of your neck and the island roads are practically traffic free.
But if you are on holiday, and want to check out the road for later rides, then here are the eateries you have to choose from.
A few restaurant and cafe ideas on where to eat out in Sa Calobra:
Restaurante Ses Taronges – "Fast Food"
Bar Playa – "A quick and generous bite"
Brisamar – "Good paella and good prices"
Es Vergeret – "Incredible location and great food"
Restaurante La Calobra – "Self-service restaurante at the bay"
EVENTS in Sa Calobra
For the cultured cyclist visiting Mallorca, you may like:
Torrent de Pareis concert
This free annual open air choral concert is held in the evening on the first Sunday in July. The unique acustics and spectacular backdrop of the Torrent de Pareis canyon make it a natural auditorium and a once in a lifetime esperience. It is popuñar of course, and thousands go every year to enjoy the concerty and setting on a balmy summer night, so don't expect a small event.
Musical genres include; classical, gospel, jazz, and musical scores from well known films.
NEAREST TOWNS to Sa Calobra
The truth is there aren't really any towns nearby. Sa Calobra is pretty much the only inlet into the sheer rock face of the Tramuntana Mountain range that runs along the whole of the western coast of Mallorca. It's one of the few places you can moor if your sailing along this part of the island, it is remote and hard to get to.
The next port of call so to speak is Port de Soller, which is linked by ferry during the summer season and otherwise only accessible by car, through the tunnel.
Northwards you have Lluc, the monastery, restaurant and school – a fabulous pit stop for cyclists doing the Tramuntana route.
AVOID PARKING in Sa Calobra with Mallorca Holiday Taxis
Parking in Sa Calobra…
In the peak summer season parking is difficult all over the island and especially at the more popular tourist spots, Sa Calobra being particularly tricky to park in due to limited space and narrow roads.
In order to avoid the problem, Mallorca cycling transfers to Sa Calobra will drive you there from your hotel or villa or collect you at the end of the route.
AUTOCARES DEVESA SL.
C/FUSTER 36 A
07460 POLLENÇA