Mallorca cycling transfers to Valldemossa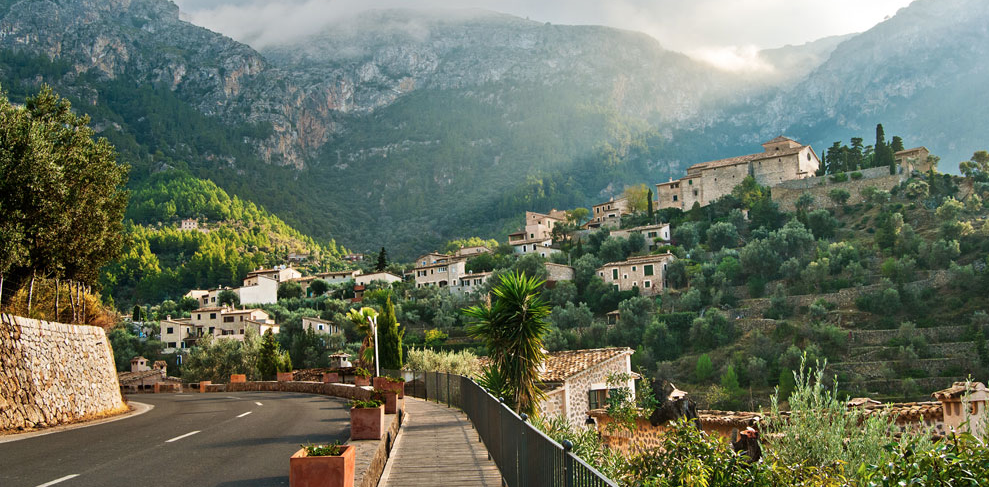 CYCLE TO VALLDEMOSSA OR BACK
Drive Out and Bike Back from Valldemossa – Across the Serra de Tramuntana Mountains
Take Mallorca airport and cycling transfers to Valldemossa – Bike transport to the start or end of the best route on the island
Mallorca cycling transfers to Valldemossa
Getting to the most beautiful parts of the island in Mallorca is not always that easy; steep and winding mountain passes can be tricky for the uninitiated and late night arrivals can only make matters worse. Cycling from Valldemossa to Port de Pollensa is possibly the most challenging and spectacular stretch of the Tramuntana mountain route but you may want logistical help.
Valldemossa is only 17 km from Palma but the mountain roads and fierce summer traffic make it seem further. As a cyclist you will most likely be in Mallorca in spring or autumn, when traffic is less dense and the weather more temperate.
ABOUT Mallorca Holiday Transfers to Valldemossa
Mallorca Holiday Transfers provide an easy way to get to the start and end of the longer cycle routes as well as logistical help with bikes, shuttle services, taxis and groups.
Our drivers will collect you at the airport in Palma de Mallorca and drive you to your hotel or villa and deliver you back at the airport in time for your return flight.
We cater to individual cyclists and clubs or groups of all sizes, also providing family transfers, special event transfers and disability transfers.
ABOUT Valldemossa
Valldemossa is breath taking. Probably the most beautiful village on the island, right in the middle of the Tramuntana Mountains, surrounded by pine forests and hills and named after the Moorish landlord Muza.
Certainly worth visiting, the village is perched neatly on a peak at 499 m above sea level, pebbled and car free, with a total resident population of 2025 people.
The village real estate is highly sought after and prices are high. Not least because of the famous local residents who have lived in the area. Michael Douglas' estate S'Estaca is currently on the market to the tune of $62million.
As a starting point for a long ride, Valldemossa is exhilarating. Perfect for a hot morning breakfast or a chilled beer at the end.
CYCLING to and from Valldemossa
Across the Serra de Tramuntana Mountains
The Serra de Tramuntana was declared a UNESCO World Heritage Site in 2011, under the Cultural Landscape category, in acknowledgement of the stunning symbiosis between human action and nature, carried out over the centuries, and which has resulted in a monumental work of stone terracing and water ways, merging culture, traditions, aesthetics, spirituality and identity.
Aside from its beauty and immeasurable value, the Serra de Tramuntana is also one of the longest and most challenging cycle routes on the island, over an area that covers 1000km2 and a 130 km mountain road one way. There are multiple cycle routes within the mountains with high peaks, steep gradients and dizzying descents, but if you want to attempt the entire route, you will need the help of a cycling transfer either there or back.
BEACHES of Valldemossa
Mallorca cycling transfers to Valldemossa
As a cyclist you may not have time for beaches, but if you are stopping off here as part of a longer ride, then do check it out.
Valldemossa's beach is 6km from the town at Puerto de Valldemossa; a grand term for what is essentially a small rocky beach with a tiny marina. There are no boats kept here though, as the swell makes it dangerous, but the beach is beautiful and remote enough to stay largely empty most of the year. The harbour wall makes a great spot for sunbathing.
Other nearby beaches are Cala Banyalbufar, Port D'Es Canonge beach and Sa Bunyola beach, all of which lie within 14 to 17 km of Valldemossa.
This is the most mountainous and inaccessible coastline on the island and the beaches are tiny and pebbled. However, where you may miss out on long sandy expanses, you gain clear turquoise waters, fantastic views and total seclusion.
SIGHTSEEING in Valldemossa
The Real Cartuja de Valldemossa
Again, you may not have time for culture in the middle of a long and arduous cycling tour. But if you do, visit the monastery!
This is one of the most emblematic landmarks in Valldemossa. Built in the 14th century, the building was founded as a royal residence and later converted into a Carthusian monastery, which existed from 1399 until its secularisation in 1835.
The monastery is a museum today, with a main church which is still in use, the old pharmacy, various cells and rooms of the prior and the monks, the former library, dining room, garden, as well as the cells No. 2 and No. 4, famous for being where Polish composer Frédéric Chopin stayed between1838 to 1839 with his lover, French writer George Sand.
PARKING in Valldemossa
Valldemossa is car free for the most part and built on terraces, so you will be mostly walking up pebbled steps and down tiny lanes between its golden sandstone facades.
Not a place to drive and less so find parking space. There are two large paid car parks with parking meters, so it will depend largely on the time of year you are thinking of visiting. The peak summer months see busloads of day-trippers, which makes getting to, parking and getting around more tiresome.
If you want us to take care of logistics and let you concentrate fully on your cycling, then opt for a Mallorca cycling transfer to the town and bike back across the Tramuntana.
EATING OUT in Valldemossa
There are 26 restaurants in total, including cafes, bars, bistros, bakeries and restaurants, and as the town is so small you won't need a guide to find somewhere to eat. If you are looking for refined cuisine, try the Valldemossa Hotel, or for a more traditional meal, head to the square.
Es Port Restaurant in Port de Valldemossa serves fresh fish and seafood on a wonderful terrace overlooking the sea.
HIKING in Valldemossa
Stop in Valldemossa and stretch your legs!
The Archduke's Way
The Austrian nobleman Archduke Ludwig Salvator spent many years living in Valldemossa and mapped out the area, creating paths and walks up to 1000m high mountain peaks.
The loop is 17km long and fairly difficult if you aren't fit, but it is walked by thousands every year and commands some breath taking mountain scenery.
EVENTS in Valldemossa
Candlelit summer concerts in the monastery gardens in Valldemossa played by pianist David Gómez are a yearly fixture and thoroughly enjoyable way to enjoy this particular setting on a balmy summer night.
FIESTAS in Valldemossa
Festes de la Beata
The local fiesta takes place on July 28th and celebrates the Saint of Valldemossa with parades on the streets.
Festival of Saint Bartomeu
Takes place on the 24th of August, to celebrate the Patron Saint of Valldemossa. There are magnificent performances in the Cloisters of the Monastery.
Annual Artdemossa
A full calendar of art, performances and exhibitions all over town at the end of July.
AUTOCARES DEVESA SL.
C/FUSTER 36 A
07460 POLLENÇA